Introducing Our First Corporate Responsibility Report
in Giving Back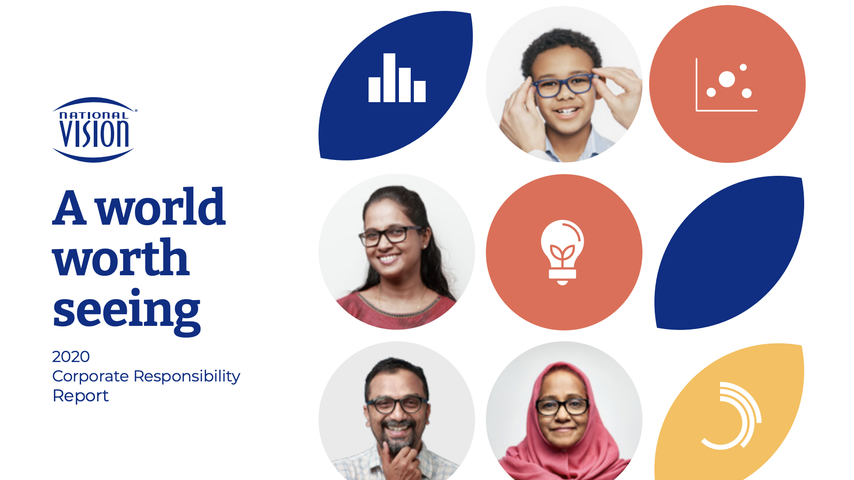 National Vision's 2020 Corporate Responsibility Report, A World Worth Seeing, shares our efforts to do good in the world through environmental, social and governance (ESG) activities.
The new report builds on the National Vision's 2019 philanthropic impact report and for the first time, expands disclosure across key ESG areas. Beyond data, the report shares our approach to corporate responsibility and leverages our "SEE+G" framework to focus activities and reporting within four key pillars – Social, Employees, Environment, and Governance.
"As a low cost healthcare provider to primarily uninsured Americans living on tight budgets, our business provides an inherent social good," said CEO Reade Fahs. "This report is National Vision's first attempt to lay out in detail all the things we are doing to be responsible citizens and to bring eye care and eyewear to low income Americans and people around the world."
Highlights from "A World Worth Seeing" include:
Results of the company's first-ever Corporate Responsibility "materiality assessment"
Progress in each of the SEE + G focus areas, including:

Social: Donated more than $2.3 million to strategic nonprofit partners to alleviate the global vision crisis
Employees: Enhanced benefits to align with what associates said mattered most to them, such as extending the amount of paid parental leave
Environment: Completed the company's first Greenhouse Gas Emissions Inventory
Governance: Board composition and diversity overview, including achieving gender parity among independent directors

Response to COVID-19, including supporting the safety and wellbeing of associates, doctors, patients and customers

Our Crisis Relief Fund granted more than $900,000 to associates and doctors in need

Efforts to foster a culture of diversity, equity and inclusion

Launched new DEI strategy and goals
"Our stakeholders are increasingly interested in the role of ESG activities," said Jared Brandman, Senior Vice President, General Counsel and Secretary, of National Vision. "Our commitment to corporate responsibility is built into the core of National Vision's business and identity, and we are excited to have the opportunity with this inaugural report to share a more comprehensive view of our SEE + G framework and progress on our ESG journey. This report is a big step forward in our ongoing commitment to disclosure and transparency."
To address areas of most relevance for its investors and stakeholders, the report is aligned with recognized guidelines, such as the Sustainability Accounting Standards Board (SASB), the Global Reporting Initiative (GRI), and the United Nations' Sustainable Development Goals.
Read the report here.